Stove Services
STOVE & INSTALLATION GUIDE…
Things to think about when considering a wood/coal burning stove installation….
WHO IS GOING TO INSTALL YOUR STOVE – ARE YOU GOING TO USE A HETAS REGISTERED INSTALLER?
HETAS is a governed body for the solid fuel installers. All solid fuel installations whether its wood or coal must be signed off by a HETAS registered installer….Stoves can be installed by non – Hetas registered installers providing your Local Building Control Dept. inspect and certify the work, this can cost approx. £380 but please note not all Building Control Depts will certify such work.
As HETAS registered installers we are able to 'Self Certify' work then notify Local Authorities that works have been completed in a safe and compliant way without the need for them to inspect.
NB….
ANY INSTALLATION THAT IS NOT CERTIFIED BY A HETAS REGISTERED INSTALLER (OR BUILDING CONTROL) THE WORKS ARE DEEMED ILLEGAL AND MOST INSURANCE GROUPS WONT PAY OUT ON ANY CLAIMS OF FIRES CAUSED BY INCORRECTLY INSTALLED SOLID FUEL APPLIANCES.
To check if a company is HETAS registered please go to:
http:/www.hetas.co.uk/find-installer/.
DO YOU HAVE A CHIMNEY FLUE/BREAST?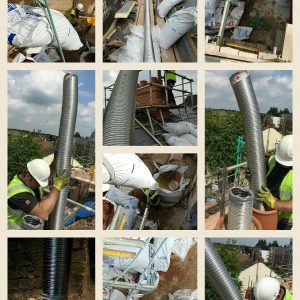 YES – If there is an existing chimney breast flue it will need to be swept thoroughly and then lined with a FLEX LINER so a solid fuel appliance can be installed ( existing gas liners left in the flue after a gas fire has been removed is not appropriate) Lining the chimney helps the stove operate more efficiently.
NO – If no chimney its NO PROBLEM a 'Twinwall Metal Chimney System' can be installed, internally or externally (Hetas installers need to be competent in both areas in order to do both so please check they have H003 & H006 accreditations to do the work) – twinwall systems are large stainless steel chimney structures (they can be factory powder coated in other colours) and if run internally can be boxed in.
Stoves over 5kw will require an airvent fitted, the reason for an airvent is…
If the output of your stove is greater than 5kW then you do need permanent ventilation to the room. There is no stipulation in the building regulations as to the type of vent that must be used however examples would be air bricks, core drill vents etc.
For stoves with outputs over 5kW the free area requirement of the vent is 550mm² per kW over and above 5kW. So an 8kW appliance would have a free air requirement of 1650mm². The amount of ventilation required does vary for other types of appliance such as open fires or stoves with flue draught stabilisers, please ask HETAS approved installer for advice.
A sufficient air supply for a solid fuel fired appliance is very important. It ensures that complete combustion of the fuel occurs and also allows the chimney to function correctly. An insufficient air supply can have serious consequences. Smoking will occur and also increased levels of carbon monoxide will be produced which can be life threatening.
DO YOU LIVE IN A SMOKE CONTROL AREA?
Under the ' Clean Air Act' local authorities may declare a whole or part of an area/district to be a Smoke Controlled Area….If you live in one of these areas/districts you CANNOT burn wood unless you have a DEFRA APPROVED stove. Some parts of the DY and WR post coded areas are smoke controlled..so please check your area before purchasing a stove.
DO YOU NEED A CONSTRUCTIONAL HEARTH?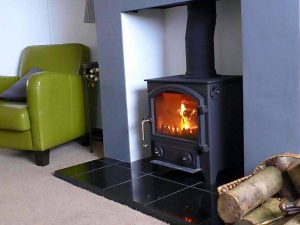 To answer this its down to the choice of stove and installation you have. If a stove can push more than 100°C directly downwards then a constructional hearth is needed. A constructional hearth needs to be minimum 125mm deep ( 250mm if there are combustible materials under the hearth). You may already have a constructional hearth if you have an existing fireplace or solid floor (not floorboards) this then needs to be 500mm in front of the fireplace opening aswell as 150mm wider each side, some existing hearths can fall short.
Some better quality stoves dont need constructional hearths, instead just a 12mm 'Super-imposed' non-combustible hearth is fine (ie – solid floor tiles).
WILL HAVING A STOVE INSTALLED REDUCE ENERGY BILLS?
Woodburners are an increasingly popular way to reduce energy bills. Well seasoned wood can in some areas cost as little as 1p per kWh and gas is 4.8p per kWh
(info sourced from www.confusedaboutenergy.co.uk)
Example : A 5kw stove used for 4hrs a day during Winter would save approx £155 pa and if using an 8kw stove for 5hrs a day you could save approx £350 pa!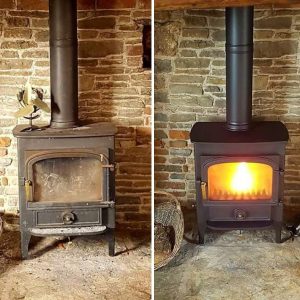 STOVE SERVICING
We check all seals, ropes etc and remaking of seals if necessary,replace ropes if needed and touching up of stove if needed.
Prices for a servicing are from £80 (this is where we do the service of the stove – clean glass, redo seals, touch up stove pipe aswell as a sweep).
NB… Rope seals degrade over time and will need replacing every 2-3 yrs, if its not replaced efficiency of the stove drops and harmful gases can leak out.
Any additional stoves to be done on the same day will be charged at £50 (if theyre lined but only if done in the same visit).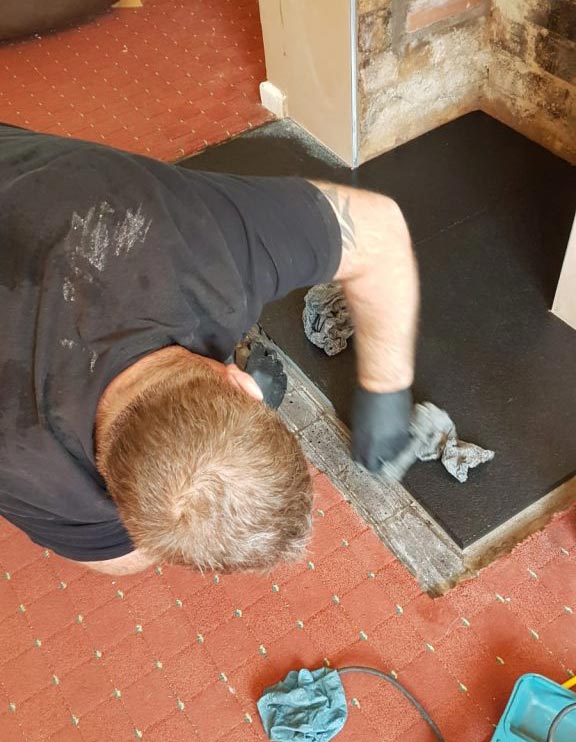 HEARTH FINISHES
We can offer a wide range of hearth finishes to suit individual personal choice and to suit your stove…
Rustic brick finish
Lime Stone
Gloss Granite
Honed /Riven Slate
Glass Plinths
Floor Tiles
……something for everyone's taste.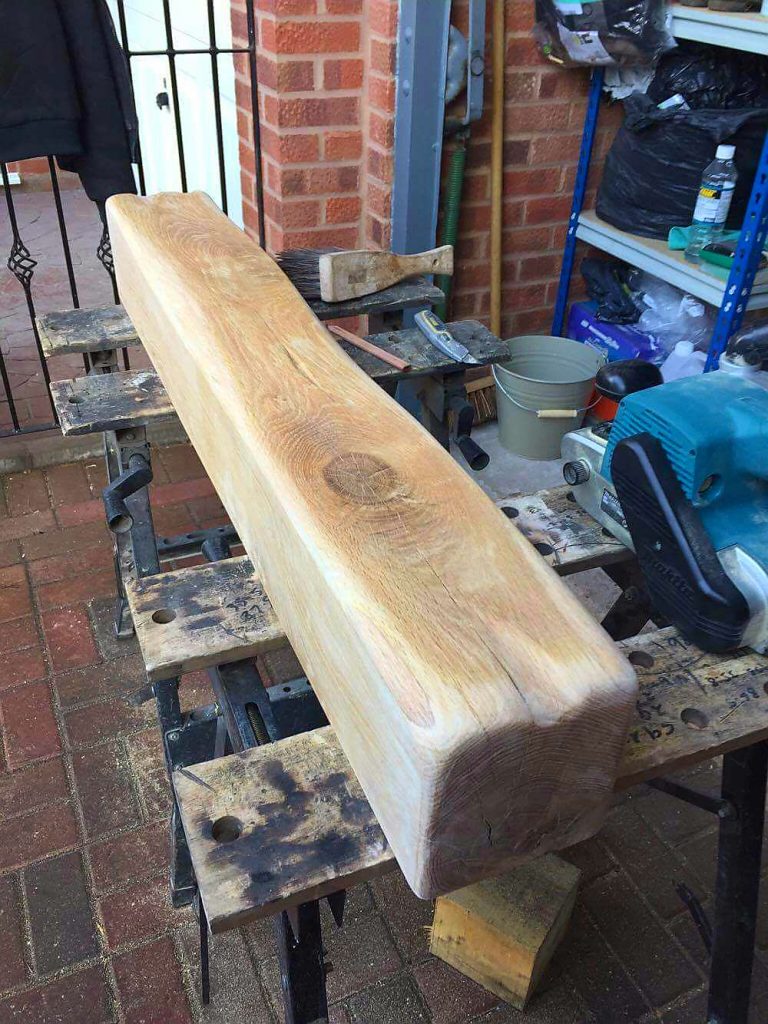 BEAMS
Completing or framing your stove installation we offer a range of Oak beams (all kiln dried so no shrinking will occur once fitted).
Classic – Rustic , different shades and finishes depending on how light & natural you want it to how dark and knotty you want it.
All finished in different oils and waxes but all are individual in look. Each beam is completed to a bespoke finish and can be tailored to match your existing home decor.
All finished in different oils and waxes but all are individual in look.
Ecodesign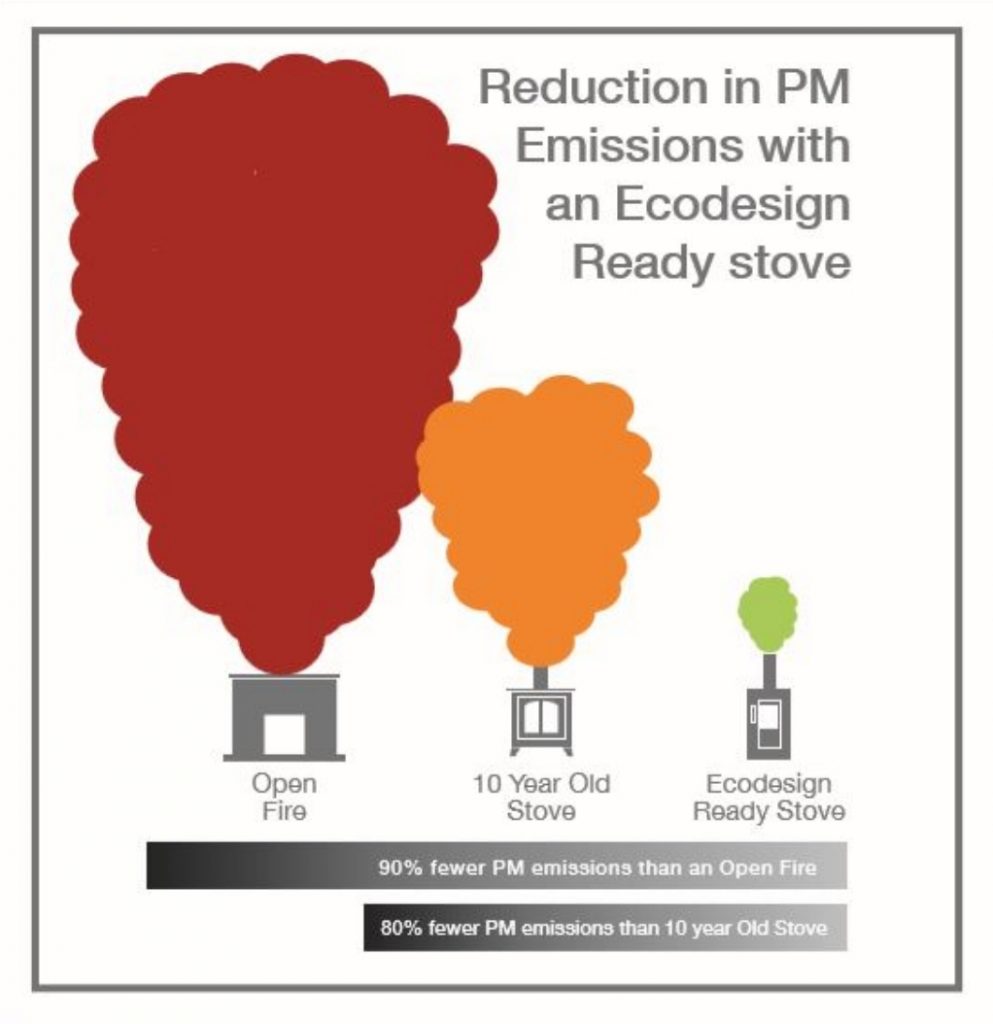 Ecodesign Ready Stoves – All you need to know about the changes coming to the stove industry.
If you're in the market for a Woodburner or Solid Fuel stove, then you need to be aware of Ecodesign Stoves. Ecodesign 2022 is the stove industry's response to the DEFRA Clean Air Strategy which aims to improve air quality and reduce emissions/pollution. In relation to stoves, it aims to tackle three key areas; Limit the sale of polluting fuels, Improve the efficiency of stoves and update legislation regarding Smoke Control Zones. Thankfully, reputable sections of the stove industry are way ahead of the game and in some cases are already meeting these proposed efficiency targets. This is great news for the consumer and the environment!
Ecodesign Ready stoves are designed to reduce PM emissions by burning wood more efficiently and completely. The stoves have been independently tested by an approved test laboratory and met the emissions and minimum efficiency criteria for Ecodesign.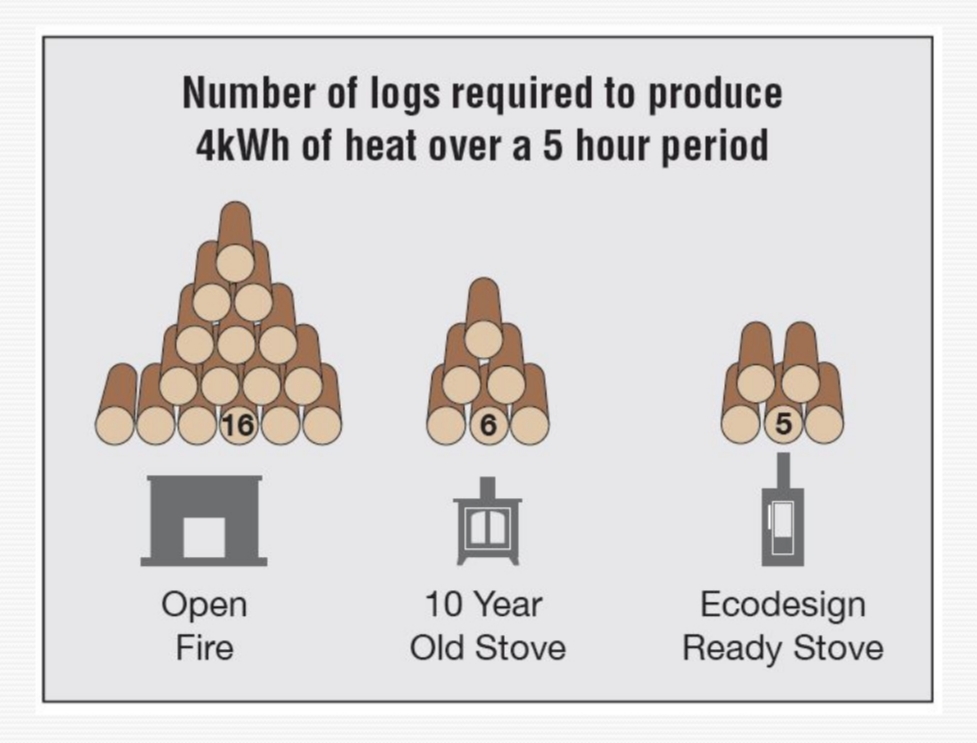 Who are the key players?
DEFRA : DEFRA is the government Department for Environment, Food and Rural Affairs.
STOVE INDUSTRY ALLIANCE : The SIA or Stove Industry Alliance is an alliance of stove manufacturers, distributors, advisory/test house bodies and other interested parties.
HETAS: HETAS is a not for profit organisation offering competent person scheme for installers of biomass and solid fuel heating, registration for retailers and chimney sweeps and approval of appliances and fuels.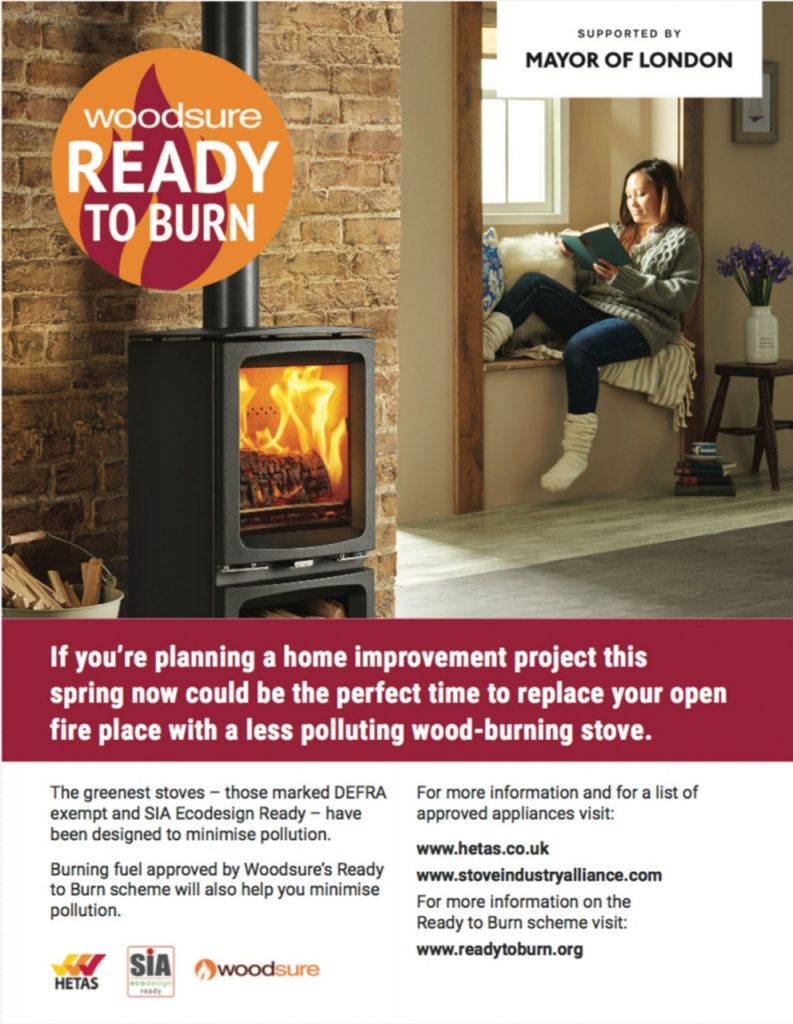 Improving the efficiency of stoves: By 2022 all solid fuel stoves must be at least 80% efficient and meet strict emission criteria. The government is already working with the stove industry to ensure this target is met. This is where Ecodesign comes into play.
Update legislation around Smoke Control Zones: Although smoke control zones are already in place, councils are adhering to them in varying degrees. By creating a cohesive national approach, the government aims to give greater power to councils to implement legislation.
When does it come into force?
For Solid Fuel Stoves (Woodburning and Multi-Fuel), including boiler stoves, the rules come into force on Jan 1st, 2022.
What will happen on the 1st Jan 2022?
From the 1st Jan 2022, it will be illegal to manufacture and sell new stoves that do not comply with the Ecodesign regulations. Stoves that were already in the chain of supply, in showrooms, warehouses etc may still be sold, however, an enforcement team has been set up to verify products sold comply with regulations.
What will happen to my current stove after 2022?
Nothing. This only applies to new stoves. However, when you come to replace your appliance, post 01/01/22 a new stove will need to comply. You will of course benefit from superior performance and lower emissions – perhaps even as much as 80%.
How do Ecodesign stoves compare to older stoves?
Independent research has shown that typical Ecodesign stoves are 90% more efficient than open fires and 80% on stoves from 10 years ago.
Research carried out by Kiwa Gastec.
Hopefully this has helped you to understand the changes that are coming and dispersed any Myths and Misconceptions you've had.